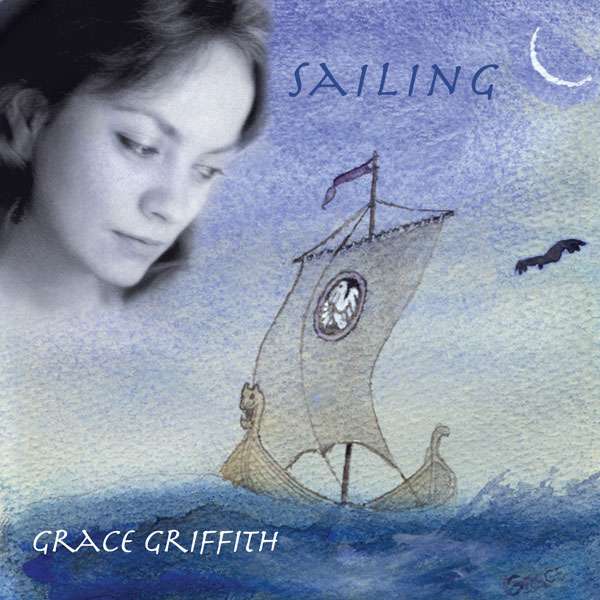 LISTEN TO SAMPLES     BUY  CD      BUY DIGITAL DOWNLOAD
The release of this retrospective cd coincides with the singer's appearance at World Parkinson Congress in Scotland.
SAILING, a new CD retracing the career of Washington, DC-area vocalist Grace Griffith, was released by Blix Street Records on September 28, 2010. A retrospective collection of 11 songs from a career that spans more than 20 years and covers the genres of Celtic, contemporary and traditional folk, SAILING marks yet another milestone for a gifted singer and musician whose extraordinary voice has earned her a circle of devoted fans, multiple awards and critical praise.
The release of SAILING coincides with Griffith's appearance at the Second World Parkinson's Congress which took place September 28 through October 1 in Glasgow, Scotland. Griffith, a former physical therapist who was diagnosed with Parkinson's Disease some 13 years ago, has been active in Parkinson-related groups including The World Parkinson's Foundation, APDA and PAN (Parkinson's Action Network), and has provided programs to numerous caregivers, health-care professionals and students throughout the United States. In addition to singing at the opening of the Congress, she is on the faculty at this year's gathering and spoke at a Music & Parkinson's Disease Workshop on the event's final day.
The 11 songs on this memorable collection are taken from four of Griffith's albums on Blix Street. Three tracks-"Ripples in the Rockpools/Kiss of the Fiddle," "Song of the Seals" and "Sailing/Ships Are Sailing"-first appeared on SIREN SONG (1995), an album recorded during her years with the Celtic-influenced group Connemara. Seven tracks are from her solo works: "Wondering Where The Lions Are," "Bound By The Beauty" and "Swallow Song" were originally presented on MINSTREL SONG (2000); "Shape Of My Heart," "My Life," and "The Cuckoo" appeared on MY LIFE (2006), her most recent solo effort; and "Carry You" is from SANDS OF TIME (2003). The independently-released JOURNEYS (1990), which she recorded with Susan Graham White as Hazlewood, is the source for the final track, "The Last Leviathan."
"The goal," says Bill Straw, founder and president of the Seattle-based independent Blix Street Records who compiled and sequenced SAILING, "was to create a super album that, much like Eva Cassidy's SONGBIRD (also on Blix Street), would elevate a relatively unknown artist to her rightful place among her peers. No one deserves it more than Grace Griffith." Straw has had a deep respect for Griffith and her talent, as well as an appreciation for her musical taste for many years. He signed her to Blix Street Records in 1995 after first hearing EVERY HUE AND SHADE, her solo debut which earned her one of her now multiple WAMMIEs, presented by the Washington Area Music Association. Subsequently, it was Griffith who first brought the music of her friend Eva Cassidy to Straw's attention.
"When I first saw the list of songs chosen for this project," says Griffith, "I was surprised and pleased by the amount of research Bill had put into repertory selection, track sequencing, artwork and all the other details. The material covers a span of time beginning with my teenage years, when most of my singing was done in the woods where I grew up or in D.C.-area coffeehouses with my sister Maura, and continues through 2006′s MY LIFE, encompassing many of the songs I perform in my appearances these days. I was also pleasantly surprised when the Blix Street came up with a title and a theme that so suits this project, affirming my place in the world as I think of it-sailing. The little watercolor on the cover was done when I was in my late teens. The Viking ship was a recurrent image in my daydreams and watercolors during those years. I always thought of it as a dream ship sailing on the sea of life between storm and calm, but always coming home through the dark sky. As far as I know, this is the only remaining picture from my water-coloring days."
If the songs chosen for inclusion on SAILING reflect the journey of the singer's career and life, they also reveal her impressively eclectic taste, ear for the perfect match of words and music irrespective of genre and a delivery that goes straight to the heart. Grace Griffith's musical roots run deep through the traditional music of Scotland and Ireland. She includes the legendary Scots singer Jean Redpath among her earliest and most abiding influences and admits to an insatiable love for Irish song during her college years. Her roots, though, extend into the fertile ground that is contemporary music as evidenced by her stylings of songs by artists such as Sting, Iris DeMent, and Jane Siberry.
"The first band I played and toured with was an Irish 'mostly female' band called The Hags," Griffith recounts. That was in the early 1980′s. In the late 80′s, she performed with Susan Graham White as Hazlewood, resulting in the album JOURNEYS. Griffith spent the early 1990′s performing and recording with Connemara, a group heavily influenced by Celtic music traditions. SIREN SONG, a CD showcasing Griffith's soaring vocals and group member Cathy Palmer's lyrical fiddle, also featured stellar performances by multi-instrumentalist Zan McLeod and accordion player Billy McComiskey. The surprising variety of material and arrangements on the tracks from MINSTREL SONG, SANDS OF TIME and MY LIFE showcase Grace Griffith as a solo artist of rare talent and taste and a seemingly limitless appreciation for the human spirit. The names Marcy Marxer, Chris Biondo and Lenny Williams appear again and again on the liner copy. As producers and as musicians, their presence and contributions-as well as those by other musicians such as guitarist Al Petteway and banjo player Cathy Fink -are richly felt throughout. Chris Biondo, producer and mentor to the late Eva Cassidy, says "There is no one I know of on the planet who sings with the emotional credibility that Grace conveys."
Grace Griffith's journey has earned her an overwhelming armload of WAMMIEs in categories including Best Album, Best Artist, Best Folk Album and Best Folk Artist. Most recently, the D.C.-based organization named her as 2009′s Best Folk Traditional Vocalist.
For years, she practiced physical therapy by day and sang by night, earning a well-deserved reputation among peers and critics and fans. Diagnosed with Parkinson's Disease in 1998, she continued to work and perform until a few years ago when the progress of the disease made the practice of physical therapy impossible and performing in concert difficult. In 2006, she underwent Deep Brain Stimulation surgery at Johns Hopkins University Hospital. She has benefitted from the still-experimental procedure and has actively created a new niche for herself as an effective speaker and educator on Parkinson's and the role music and the performing arts play for those with the disease.
At the World Parkinson's Congress, she again spoke on the topic of music and endeavoring to maintain a creative approach to living with the challenges of Parkinson's. Her co-presenter was Constance Tomaino, a researcher and published author in the field of music therapy.
In addition to her involvement with Parkinson's-related groups and educational projects, Grace Griffith continues to perform. One such performance was at the John F. Kennedy Center for the Performing Arts, where she sang "If I Can't Dance," a song from MY LIFE, accompanying a dance troupe comprised of people with Parkinson's. More recently, she has been doing low-pressure performances around the Washington area in collaboration with local singer-songwriter Lynn Hollyfield. "Lynn is the perfect complement for me on guitar," says Griffith. "For the most part, I've had to give up playing instruments in public performance due to the effects of Parkinson's. Lynn and I are both physical therapists by training. Although I've retired from active status, she is still working in the field. I owe her, as well as some other music friends, deep gratitude for their patience, encouragement and support, which has enabled me to pursue the bliss that is my music despite Parkinson's."
Read FANREALM article about Grace and Sailing.