With a crystal-clear vocal tone often compared to the late Sandy Denny, the Washington Area Music Association awarded Grace Griffith past WAMMIE awards as "Best Female Vocalist" in both the Celtic and Traditional Folk categories four consecutive years.
GRACE'S  STORY IN HER OWN WORDS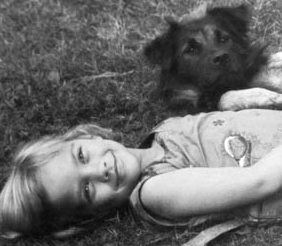 I was raised in a family of ten children on a small farm in Southern Maryland. There was often singing in the house and woods where I grew up. My parents listened to folk and classical music in the house, and I remember Mamma singing as she worked and my father singing when we'd go walking or work in the garden or ride in the car. To them singing was a free source of pleasure, and a way to pass one's time while cleaning or just sitting. I found my voice in the woods and the back pasture.
As teenagers several of the older kids took up folk and rock music as a hobby, and at a young age I began singing and accompanying myself on guitar on small coffeehouse stages, mentored by my sister Maura.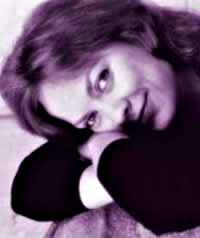 When it came time for college my parents encouraged me to pursue a practical career and one for which a student of limited means such as myself could get scholarships. I graduated from the University of Maryland with a degree in physical therapy and embarked on a career in that profession in 1978, giving up my beloved musical hobby for some time. Several years out of college, my muse called again when I was invited to sing lead for a DC based Irish band called "The Hags" (my predecessor in this was Debi Smith and my successor was Mary Chapin Carpenter, believe it or not). I toured the college circuit for two years with the Hags, establishing a pattern of balancing two careers (singer and physical therapist) which endured most of my working life.
When songwriter Susan Graham White heard me sing at the Cafe Florian Coffeehouse, she had the idea we could go places as a team. She and I formed the duo "Hazlewood" in 1987, ultimately appearing at the 1991 Philadelphia Folk Festival and producing several independent recordings (now out of print) including a CD called "Journeys" with Jim Fox of Lion & Fox Recording. Hazlewood gained quite a following, but eventually Susan went on to pursue a solo career and I returned to my celtic roots, forming the trio Connemara with which I still perform sometimes.
A leap in my music career came when Blix Street Records of California was looking for an artist to succeed Ireland's Mary Black as their main project in the U.S. and my friend photographer Irene Young sent Bill Straw (Blix Street president) a demo of my work. They decided I was what they were looking for. A meeting was arranged out on the West Coast and they signed me to a longterm recording contract. They first revamped my independently produced "Every Hue and Shade" CD into a debut titled "Grace", licensing the two recordings I'd done with Connemara "SirenSong" and "Beyond the Horizon" for distribution as well.
The first ever project taken from start to finish by Blix Street Records was my "MinstrelSong", released in 2000, and this was followed by "Sands of Time" in 2003. My recordings and live shows are often quite eclectic, running the gamut from folk and celtic to decidedly contemporary .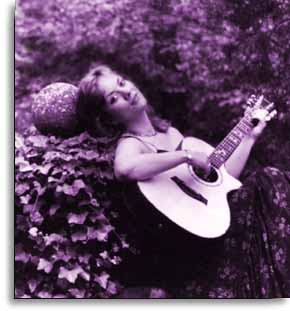 I'm told by my fellows that I have an ease and serenity that makes it fun to make music with me and I love to hear that. I think fun is SO important. And if we're having fun, the audience is having fun — humor is essential to me.
I will say I'm fortunate in the number and caliber of musicians I am able to welcome on stage with me. In addition to longtime cronies like Paul Nahay (piano) and Zan McLeod (anything with strings), the likes of Cathy Fink & Marcy Marxer, Al Petteway, and others might be at my side on stage on a given day, I've done shows with Barbara Higbie and Nina Gerber and too many great players to mention here. I am a lucky woman.
I enjoy performing from time to time as one third of the trio "Irish Fire" (Dominick Murray's the Irish tenor with guitar, Dave Abe's on fiddle), and did some vocals on their self-titled CD. I'm currently working with Jennifer Cutting (formerly of The New St. George) on a recording project and live musical program titled "Ocean — Songs for the Night Sea Journey". A possible future recording project with Connemara is currently under consideration. It has always been important to me to support the work of trying to protect our environment, to further understanding and to live with compassion. I feel fortunate to have had the chance to be the minstrel that I have been–touching many different people in different ways through song.
To close this story I have chosen an excerpt from a poem with which Jennifer Cutting introduces the title cut of "Sands of Time"–
"My spellbound heart has made and remade the necklace of songs that you take as a gift and wear round your neck…forever."

—Rabindranath Tagore (Bengali National Poet), 1890